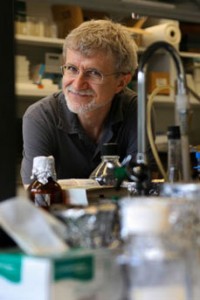 Proteomic Analysis of Translation in Yeast
Based on recent studies, including transcriptome-scale ribosome profiling, it is likely that the regulation of gene expression at the level of protein translation initiation is more important than previously realized. We are investigating translation initiation in the budding yeast model system through a combination of peptide mass spectrometry, molecular genetics, and bioinformatics approaches.
Improved understanding of translation initiation events of genes in yeast and higher organisms will provide fuller annotations of proteomes, and will be particularly useful for functional interpretation of future large datasets of mRNA sequences, especially in analyses of mRNA sequence variants and mutations associated with disease states.
Our primary goal is to assess the repertoire of protein products of genes contributed by different translation initiation events. We would like to know how common it is for genes to have multiple translation initiation sites, potentially giving rise to different protein products or overlapping products with alternative amino termini. The different protein products of a gene might have different functions and be compartmentalized to different parts of the cell.  Mechanisms giving rise to alternative amino termini could include leaky scanning or reinitiation of translation.  Individual cases of leaky scanning and reinitiation have been described in yeast and other higher organisms.
We have undergraduate and graduate research opportunities in our Biology Department and Molecular Biophysics Program.
Funding:  National Institutes of Health